Elevate your Professional Look: Tips for the Busy Soloist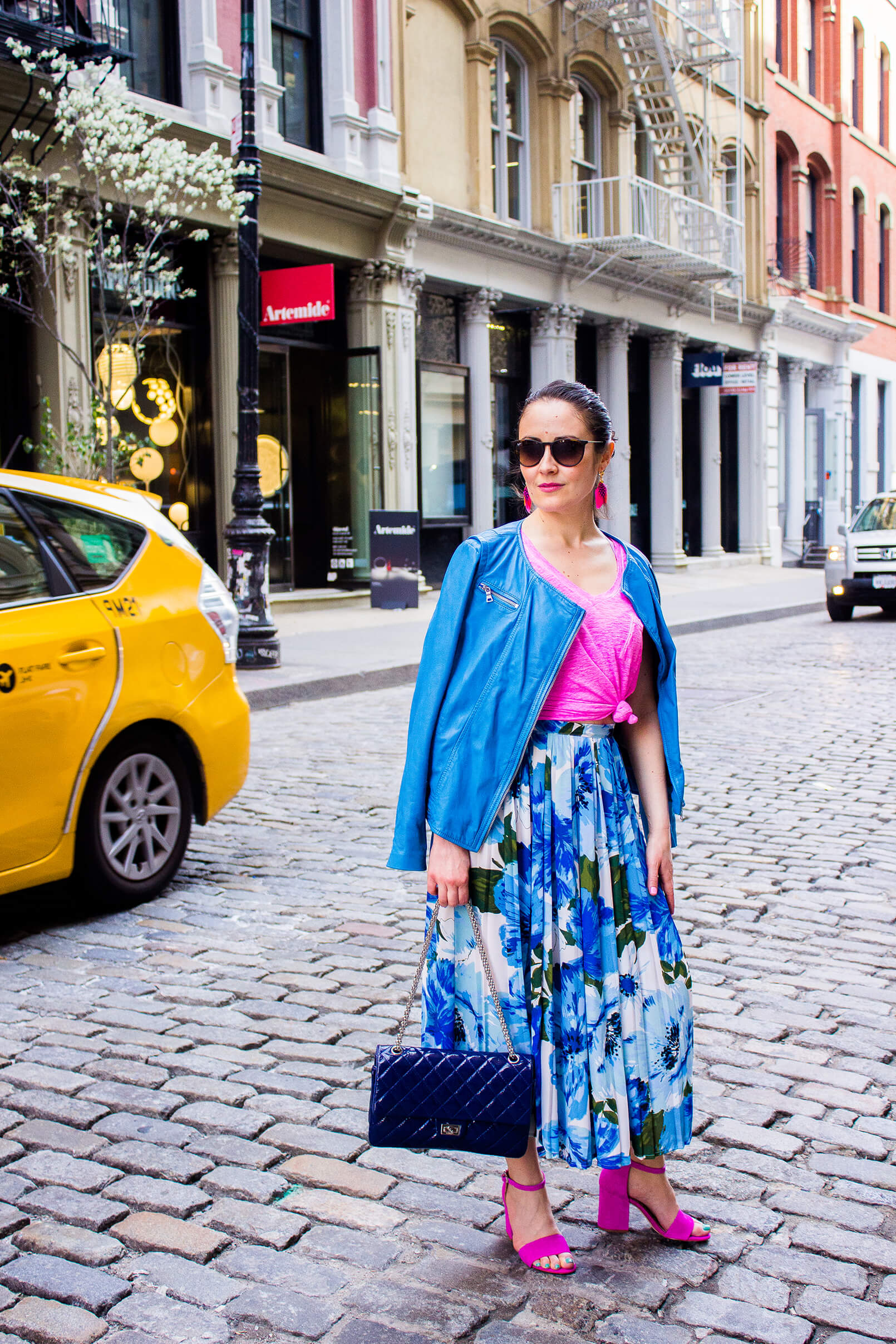 we often don't have a workplace dress code, but looking professional always applies. Personal stylist and image consultant Dina Scherer of Modnitsa Styling works with clients on elevating their confidence through a put-together image. She helps them identify what makes their style authentic and unique and curates a wardrobe that correlates with their lifestyle and their needs. Through clothes, clients are able to visually project their desired image to the world.
by Shana Clarke
"I was always in the fashion field in some way," says Dina. "I started out working for a fashion forecasting company and I learned a lot about the industry and trends. I also did merchandising, jewelry design, and a little bit of sales, so I have a well-rounded fashion background." Over time, Dina realized none of the fields "were a spectacular fit with my own ideas about what I wanted to do," so she moved into advertising. After a major company layoff in 2008, she did a lot of deep thinking about fashion and what aspects made her love the industry. "Image Consulting kept coming up as something that was interesting to me. It had the elements of teaching someone about style, but also incorporated my own fashion eye." She went back to school to receive a certification in Image Consulting from the Fashion Institute of Technology, completed a few private training programs, and ultimately got certified through the Association of Image Consultants International. "I've been doing this for 9 years now, and it's really become something I am truly proud of," she says. "It's now a very structured process and I try to inspire my clients… to become smarter shoppers and better dressers. I try to leave them with strategic tools they can use even after we work together because not everyone wants to hire you every season or can afford to. I want to help them get re-inspired about their wardrobes and understand that clothes are not just pieces of fabric they put on, but they really project a message.
Style is truly personal, but there are some overarching guidelines that can help one look pulled-together and professional. Here are pointers from Dina on how to curate a professional look:
Choose Darker Shades of Your Favorite Colors
One thing that makes someone look a little bit more professional is darker colors. Colors are fascinating because not only are they based on our own natural coloring/complexion, but they project very strong messages. Without going too deep, darker colors are more authoritative; they definitely project more of a polished,professional look. Lighter colors can be a little bit more approachable and soft. If you're going for a professional look, you may not project that with a pink jacket as you would with a navy jacket, for example.
 
Go For High Contrast
Contrast is essentially the difference in value between colors; for example, dark paired with light is high contrast, black and white together create the highest contrast. Again, it would depend on the person, but typically if you put together contrasting colors, especially black and white or brown and off-white, they tend to look more professional, whereas if you're putting together combinations that are softer and don't have as much contrast between them, you're not projecting that same message.
 
Mind the Lines
Lines correspond with strictness and authority. Whenever you're putting together outfits, minding the necklines and the details around your face is very important. If you're putting together a suit-type outfit, or even something business casual, such as a V-neck paired with angular lapels on the jacket, it's going to project more of a professional feel, whereas if you're putting on a scoop neck with a sweater with some pattern on it, you're going to project more of that fun, casual feel. Thinking through the lines you're putting next to your face can help you project the desired image.
 
Patterns
Patterns are always something my clients and I discuss. If you're wearing more pattern in your clothes, you look more casual and fun. If you're wearing a jacket or blazer that's clean-looking with a solid fabric and a blouse that's very sleek, that's going to look more professional versus wearing a patterned jacket or leather jacket paired with a graphic tee.
 
Fit
Fit is extremely important. No matter what your body type, you're going to look more professional if you're dressing to fit your body. Whether it's a suit or a blazer and jeans, you want your blazer to come in at the waist and fit well through your arms. It shouldn't hang loosely or have excess fabric. Minding the fit is a really, really important aspect of any garment, whether it's a coat, sweater, or T-shirt. It shows you put in effort, you know your body type, and you're taking care to dress for it. If you're not fully dressing for your body, you're not fully accentuating your assets; instead, you might look like you're hiding in the clothes that are too big, or fit too snug and are uncomfortable.
 
A Stylist's Best Kept Secret: Linking
There's kind of a best-kept secret, I call it, with image consultants. It's the concept of "linking". Essentially it's putting together a look that tells a story. It originates from the idea of dressing with elegance, which comes from having your outfit make sense. It involves coordinating two or three different pieces, whether through color, texture, or details like jewelry or embellishments.
 
Its effectiveness is twofold. One, it shows you made an effort and thoughtfully put something together, and two, it makes the eye go around the outfit and connects all the dots, which is why it's called "linking". I recommend doing it with something accessory-based. I don't mean matchy-matchy; I mean things that compliment each other, such as the same metal tone. They will all tie together, create a story, and make it look a little bit more professional.You have to make sure the accessories aren't too big for the workplace, that they don't swallow your entire frame, and they're on par with the scale of your features. It really helps the look come together and appear sleek & polished.
The Finishing Touches
Taking care to look at all the details when you get dressed is going to make a difference. Hair, makeup, nails; all those things do project a message, and you can ruin your look by not paying attention to those last-minute finishing touches.
 
Go through your entire look and assess: are my shoes in good condition, do they go with my outfit, is my outerwear on point? When you meet a person for the first time, they will notice all those details. It doesn't have to be expensive or super-fashionable; if it's just clean and well-kept, it's enough to not draw attention in a negative way. Taking care of your things and having items that you're proud of will make you feel more confident.
Soloists work hard to achieve a successful business and the outside should reflect the inner pride we feel in our work. A major wardrobe overhaul isn't necessarily in order, but following a few simple tips can make all the difference.
Interested in working with Dina one-on-one? Contact her at dina@modnitsastyling.com